Adonis
Back to VARIETY INDEX Terms HOME
Adonis
(Plant heights are given at maturity)


Native to Manchuria, this lovely gem belongs to the Buttercup family (Ranunculuaceae). The plants do best in rocky rather sandy soil enriched with leaf mold or compost in a sunny open location. Plants may be propgated by digging established plants and dividing in the early spring, or by planting seeds. Seed should be sown in pots trays or prepared beds, covered and kept moist, but not soggy. For best germination, they should be maintained at a temperature of 70F for 2 weeks, then moved to 40F for 4 weeks, then moved to 50F for 4 weeks. This method will break the seed from dormancy. It is also possible to sow seed outdoors in a prepared bed in the late fall and allow the seeds to stratify naturally, though germination percentages may not be as high as using the artificial method outlined. Once germinated, the seedlings can then be trasnsplanted to larger containers or outdoors, if the soil temperatures do not fall below 50F. The plants should then be moved as little as possible, as they do not take it lightly.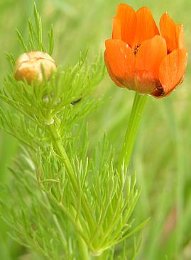 Adonis aestivalis (Flower of Adonis, Pheasant's Eye) - Perennial - Belonging to the buttercup family, these lovely plants are often overlooked by garden enthusiasts. Lacy fernlike foliage forms a small clump covered with brilliantly colored orange cups with spots. Prized for rock gardens or garden borders, they make a bright show in the spring. Well worth the extra effort to germinate. Height: 12 inches Hardy to -30F (-34.4C) Full sun or partial shade
| | |
| --- | --- |
| #5457 Packet $5.50 Approximately 100 seeds | |
ORDER EARLY!
See TERMS

Back to VARIETY INDEX Terms HOME

If you have arrived in someone else's frame, or can not see all of the other information available on richfarmgarden.com Click on logo to enter from beginning