CALLIRHOE

(Plant heights are given at maturity)
Back to VARIETY INDEX Terms HOME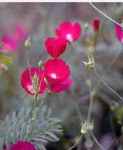 Tall Poppy Mallow (Palmleaf Poppymallow) Callirhoe leiocarpa - Upright, drought tolerant annual with dark purple to wine-red blooms which open during the day and close at night, remaining closed permanently after pollination. Native to Texas, Oklahoma and Kansas. Roots are edible and taste rather like a parsnip. Prefers a light sandy loam in full sun. Full sun; height: 3ft.
| | |
| --- | --- |
| #3918 Packet $3.50, Approximately 100 seeds | |
| #Bz-3918 Bulk seed 1oz (avg. 4400 seeds) $8.99 | |
| #B4z-3918 Bulk seed 4oz $12.59 | |
| #B1-3918 Bulk seed 1 lb $32.49 | |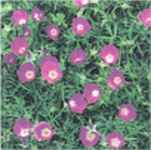 Wine Cup (Mallow) Callirhoe involucrata - Hardy, drought tolerant wildflower native to Texas and the south central US. A member of the mallow family, winecups spread on trailing ground covering stems and have malva-like dark purple or magenta blooms that close in the evening. The plant will bloom in the spring, then go dormant in the summer heat. In autumn, it will bloom again. Prefers sandy or rocky soils and makes a good rock garden plant. Roots are edible and sweeter than its cousin, Callirhoe leiocarpa, resembling a sweet potato. Full sun; height: 18in. (trailing vine)
| | |
| --- | --- |
| #1392 Packet $4.50, Approximately 100 seeds | |
| #Bz-1392 Bulk seed 1oz $58.50 | |
ORDER EARLY!
See TERMS

Back to VARIETY INDEX Terms HOME

If you have arrived in someone else's frame, or can not see all of the other information available on richfarmgarden.com Click on logo to enter from beginning