EUPATORIUM Plants, Seeds and Dried Herb
(Plant heights are given at maturity)
Back to VARIETY INDEX Terms HOME

Alternate Names: Gravel root, Queen of the Meadow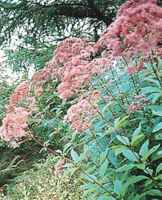 Joe Pye Weed - Eupatorium pupureum - Perennial - Medicinal - Tall, graceful plant with pink-purple flower brackets. The foliage emits the aroma of vanilla when crushed. This plant has been used as a stimulant for circulation, to stimulate sweating and break fevers, and to treat kidney problems. Blooms first year from seed. Full sun, Partial shade; plant height: 8ft.
| | |
| --- | --- |
| #487 Packet $3.50, Approximately 100 seeds | |
| #B1lb-487CS Dried herb cut and sifted 1lb $22.99 | |
| #B1lb-487CSR Dried root cut and sifted 1lb $34.99 | |
| #B1lb-487G Root powder 1lb $34.99 | |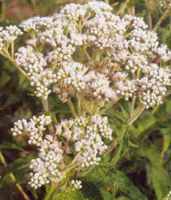 Boneset - Eupatorium perfoliatum - Medicinal - Long lasting white blooms throughout the summer until frost. Great butterfly plant that tolerates damp conditions. Used as an immune system booster and to treat colds and fevers, as well as bruises and broken bones. Full sun or Partial shade; Height: 4ft.

#4788 Packet, Approximately 100 seeds $3.50

#B1lb-4788CS Dried herb cut and sifted 1lb $49.95

#B1lb-4788G Dried herb ground 1lb $49.95
ORDER EARLY!
See TERMS

Back to VARIETY INDEX Terms HOME

If you have arrived in someone else's frame, or can not see all of the other information available on richfarmgarden.com Click on logo to enter from beginning