If you have arrived in someone else's frame, or can not see all of the other information available on richfarmgarden.com Click on logo to enter from beginning





Complete Garden Kits
Click here to see the list of seeds included in each Survival Garden Kit



#K1 Small Farmer's Ultimate Garden and Herb Kit
$425.00
#K2 Homesteader's Self Sufficiency Garden Kit
$250.00
#K3 Urban Garden Kit
$100.00
#K4 Complete Veggie Kit
$220.00
#K5 Complete Medicinal Garden Kit $135.00


Heirloom Gardener's Gift Basket
The perfect gift for your favorite gardener includes 10 packages of Rich's most popular heirloom seeds (Sulfur beans, Reid's Yellow Dent corn, Chiogga beets, Amish cockscomb, Delphinium, Love Lies Bleeding, Genovese basil, Lemon balm, Garden sage and Giant Sungold sunflowers), a pair of gardening gloves, and a set of gardening tools, all in a decorative basket.
| | |
| --- | --- |
| #GCB Heirloom Gardener's Gift Basket $59.99 | |


Cook's Basket
The Cook's Basket is a great gift for everyone! Seven different cooking herbs, grown in our gardens, have been picked at the height of flavor, dried and packaged for your enjoyment. Genovese basil, English thyme, Garden sage, Rosemary, ground Coriander seeds, Parsley, and Apple mint are attractively packaged, and presented with a set of three wooden spoons and a quilted oven mitt.
| | |
| --- | --- |
| #GCB Cook's Gift Basket $59.99 | |
Get the Rub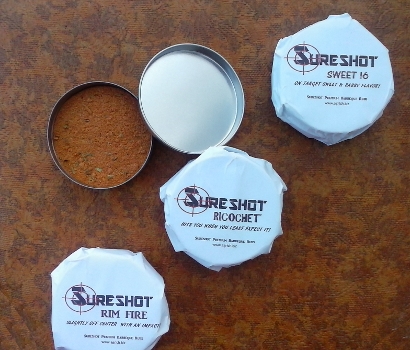 The Locals have known for years that Rich's is the place to get their Dried Herbs as well as the live herb plants and seeds. But now some of that secret knowledge of herb uses is leaking out! We have put together a gift pack with three of our famous BBQ Dry Rub mixes. Made from our home grown chilies, garlic, onions, and other vegetable and herb combinations, together with carefully selected natural and organic ingredients from our friends - you know it is Good!
The 3 Flavor Gift Pack contains 4 oz. tins of each: Rim Fire -the medium hot mix (emphasis on hot); Richochet -the medium (that chili may sneak up); and the Sweet 16 - sweet with mild chili and multitude flavor.

| | |
| --- | --- |
| #SSR3 SureShot BBQ Dry Rubs 3 flavor Gift Pack $23.00 | |
| #SSRF SureShot Rim Fire tin $8.00 | |
| #SSRT SureShotRichochet tin $8.00 | |
| #SSS16 SureShot Sweet 16 tin $8.00 | |
Gift Certificates
What better way to give an exotic gift to your favorite gardener! richfarmgarden's extensive internet catalog of rare and unusual items makes just reading the catalog a fun and very enjoyable experience. The Recipient of your gift will enjoy the shopping experience as well as the garden's plants.
Rich's Gift Certificates are available in $25 increments.
Adjust the quantity on your order upon check-out to give any amount that you wish; an account will be set up in your recipient's name.
| | |
| --- | --- |
| | #GC1rfg GIFT CERTIFICATE $25.00 increment |
After checking-out, send an email message to us with Recipient's name.
We will send an email to you with the certificate serial number that your Recipient will need to redeem your gift. You can wait for us to send the Serial Number to you before notifying the Recipient of your gift, or go ahead and tell them, so they can begin shopping but tell them that you will be relaying the number.
Recommended items to include in your email notice to Gift Recipient
1. Include a link to richfarmgarden.com (http://www.richfarmgarden.com)
2. Tell them how much is in their new Gift Account
3. Include the email address that they will use to place an order, and redeem their gift:
certificates@richfarmgarden.com
4. Tell them how you registered their name. They will need to use the exact same name.
5. Give them the serial number that we sent to your email. (If you have not received this yet, you will need to relay it to them when you get it.)

With this information, they can email to: certificates@richfarmgarden.com for complete instructions; or simply go to www.richfarmgarden.com, select the catalog numbers of the items that they wish to order, and include this information in an email to us at: certificates@richfarmgarden.com


Recipient should use the email to us for their gift redemption purchases, not the shopping cart. We do not receive shopping cart messages unless the item is paid again, so it is possible for Recipient to use the cart to make their shopping list, but rather than proceeding to check-out, now send an email to certificates@richfarmgarden.com


If you have any questions, please contact:

For questions about this process:
sales@richfarmgarden.com

For questions about existing gift accounts: (inquiries from Purchasers or Recipients WELCOME)
certificates@richfarmgarden.com

THANK YOU!

Print the above certificate to use in conveyance of your gift, if you wish. Go to the image file:
giftcertificate.jpg
then use your browser print function. Use your Back button to return.
-----------------------------------------


If you have arrived in someone else's frame, or can not see all of the other information available on richfarmgarden.com Click on logo to enter from beginning