MORINGA

MORINGA
(Plant heights are given at maturity)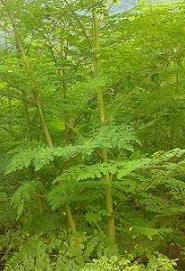 Moringa oleifera - Drumstick Tree, Horseradish Tree, Ben Tree

The tree is a tropical and belongs to the Moringaceae family ( The trees are widely clutivated and occur naturally in India, Africa and the East Indies, as well as Saudi Arabia. It is easily cultivated in the US in the southern states. The trees are rather slender and have drooping branches with brittle bark. The leaves are long and feathery and are eaten as greens, containing a high concentration of B and C vitamins, beta carotene and protein. They are eaten cooked or raw or are pulverized into a powder and added to soups or sauces. Blooms are white, extremely fragrant. Immature seed pods are sometimes called drumsticks and are eaten, cooked until soft. The mature seeds are also eaten, and contain a high concentration of Vitamin C. Seeds are also crushed for their oil, which is called ben oil and is used in foods. The leftover pulp is then used as fertilizer. The roots are also ground and used like horseradish, but they contain alkaloids and should be consumed with caution.

The trees are easy to propagate from seeds or cuttings, or by layering.

Medicinally, the leaves, flowers and roots are used to treat tumors, the roots are used to as a tonic and the bark is used to treat diarrhea.

Hardy to 30F (-6.6C) Height: 35ft Spread: 30ft.


| | |
| --- | --- |
| #5894 Packet $20.50 Approximately 50 seeds | |
| #B4z-5894 4 oz. seeds $40.50 | |
| #B1-5894 1 lb. seeds $80.75 | |
TIP: SEED - HOT WATER SCARIFICATION
involves placing seeds in water that is 170 to 210 degrees F. not boiling. After the water cools, seeds should continue to soak for 12 to 24 hours. Use 10-20 times the volume of hot water as seed. Seeds with a waxy coating, such as myrica, should be washed several times in very hot water to remove the wax before the final soaking.
see also: NATURAL SCARIFICATION, MECHANICAL SCARIFICATION, ACID SCARIFICATION
ORDER EARLY!
See TERMS

Back to VARIETY INDEX Terms HOME

If you have arrived in someone else's frame, or can not see all of the other information available on richfarmgarden.com Click on logo to enter from beginning