vvvvvvvvvvvvvvvvvvvvvvvvvvvvvvvv
ACACIA
ACHILLEA
ACONITE
AEGOPODIUM PODAGRARIA
AESCULUS HIPPOCASTANUM
AGASTACHE
AGAVE
AGRIMONY
AJUGA
AKASHISO
AKULIKULI-KULA
ALCHEMILLA
ALFALFA
ALKANET
ALOE
AMBROSIA
AMERICAN GOLDENSEAL
AMOMUM
AMPALAYA
ANAPHALIS
ANEMARRHENA ASPHODELOIDES
ANGELICA
ANISE
ANISE HYSSOP
ANTENNARIA
ANTENNARIA MARGARITACEA
ANTHEMIS
ANTHEUM GRAVEOLENS
ANTHRISCUS CEREFOLIUM
ANTHYLLIS
APPLEMINT
ARABIS
ARCTOSTAPHALOS UVA-URSI
ARMORIACIA RUSTICANA
ARNICA
ARONIA
ARTEMISIA ABSINTHIUM
ARTEMISIA ANNUA
ARTEMESIA DRANCUNCULUS
ARTEMESIA FRIGIDA
ARTEMESIA STELLERIANA
ARTEMISIA VULGARIS
ASARUM
ASHWAGANDA
ASTRAGALUS
ATRIPLEX
AZTEC SWEET HERB
BAIKAL SCULLCAP
BALLOON FLOWER
BALSAM
BALSAM PEAR (BITTER MELON)
BANANA
BAPTISIA
BARBAREA
BARBERRY
BASIL
BASJOO
BAYBERRY
BAY LAUREL
BEARBERRY
BEET ROOT
BELLAMCANDA
BENGAL CARDAMOM
BERBERIS
BERGAMOT
BERGENIAS
BETA VULGARIS
BETONY
BIDENS
BISHOP'S FLOWER
BLACKBERRY LILY
BLACK CARDAMOM
BLACK CHOKEBERRY
BLACK COHOSH
BLACKHAW
BLACK WALNUT
BLEPHILIA
BLUE BEAN TREE
BLUE BREADSEED POPPY
BLUE VERVAIN
BORAGE
BOXWOOD
BRAHMI
BRONZE FENNEL
BUCKTHORN
CALENDULA
CALIFORNIA PEPPER TREE
CALYCANTHUS
CAMOMILE
CAMPHOR
CARAWAY
CARLINE THISTLE
CAROB
CAROLINA ALLSPICE
CARTHAMUS
CARUM CARVI
CASCARA
CASTOR BEAN
CATALPA
CATNIP
CATS EARS
CENTELLA ASIATICA
CERATONIA SILIQUA
CHAMISO
CHAMOMILE (Anthemis)
CHAMOMILE (Chamaemelum)
CHASTE TREE
CHERVIL
CHIA
CHICHORIUM INTYBUS
CHICORY
CHINESE GOOSEBERRY
CHINESE SENEGA
CHINESE WOLFBERRY
CHIVES
CILANTRO
CLARY SAGE
CLOVE PINK
CLOVER trifolium incarnata (herb, cover crop)
CLOVER trifolium pratense (cover/forage/hay crop)
COCKSCOMB
COHOSH
COLUMBINE
COMFREY
CORIANDER
CORNFLOWER
CRAMBE
CRAMPBARK
CRANESBILL
CRATAEGUS
CREEPING THYME
CRYPTOTAENIA
CUBAN OREGANO
CULANTRO
CUMIN
CUMINUM CYMINUM
CYMBOPOGON
DESERT SALTBUSH
DIGITALIS
DILL
DITTANY
DOG FENNEL
DOG ROSE
DOWNY WOODMINT
DRAGONHEAD
DUCKWEED
ECHINACEA
EDELWEISS
ELDERBERRY
ELECAMPANE
ENGLISH THYME
EPAZOTE
EPHEDRA
EPILOBIUM
ERIGERON
ERYNGIUM YUCCAFOLIUM
EUCALYPTUS
EUCOMMIA
EUPATORIUM
EVENING PRIMROSE
FALSE INDIGO
FENNEL
FENUGREEK
FEVERFEW
FILIPENDULA ULMARIA
FLAX
FLEABANE
FORSYTHIA
FOXGLOVE
FRAGRARIA VESCA
FU KWA
GALLIUM ODORATUM
GARDENIA
GARLIC
GARLIC CHIVES
GAULTHERIA PROCUMBENS
GENTIAN
GERANIUM
GERMAN CHAMOMILE
GERMANDER
GINKGO
GINSENG
GNAPHALIUM
GNAPHALIUM MARGARITACEUM
GOLDENSEAL
GOTU KOLA
GOUTWEED
GREEK MYRTLE
GREENLEAF MANZANITA
GREY SAGEBRUSH
GRIFFONIA
GROMWELL
GUM ARABIC
HAMAMELIS VIRGINIANA
HAWTHORNE
HEAL ALL
HEARTSEASE
HELIOTROPE
HOLLYHOCK
HONEYWORT
HOPS
HOREHOUND
HORSE CHESTNUT
HORSERADISH
HOUSELEEK
HUMULUS LUPULUS
HYDOCOTYLE ASIATICA
HYDRANGEA
HYDRASTIS
HYPERICUM PERFORATUM
HYSSOP
INDIAN PENNYWORT
INDIAN ROT
INDRAJAO
INULA HELENIUM
IRIS
JACOB'S LADDER
JAPANESE PARSLEY
JASMINE
JOB'S TEARS
JOE PYE WEED
JOJOBA
JUGLANS NIGRA
JUJUBE
JUNIPER
JUPITERS BEARD
KENIKER
KIDNEY VETCH
LACEFLOWER
LADY'S MANTLE
LAMBS EARS
LAVENDERS
LEMON BALM
LEMON GRASS
LEMON THYME
LEONTOPODIUM ALPINIUM
LEONURUS CARDIACA
LEPTOSPERMUM SCOPARIUM
LIATRIS
LICORICE
LINDEN
LINUM PERNNE
LINUM RUBRUM
LION'S TAIL
LITTLE HOGWEED
LOBELIA
LOVAGE
LUFFA
LUNARIA
LUNGWORT
LYCIUM BABARUM
LYCIUM CHINENSIS
MAHONIA AQUIFOLIUM
MANCHURIAN KIWI
MANUKA
MARGUERITE DAISY
MARIGOLD
MARJORAM
MARRUBIUM VULGARE
MARSH PENNY
MAYWEED
MEADOWSWEET
MEDICAGO SATIVA
MELISSA
MEADOWSWEET
MENTHA
MIGNONETTE
MINTS
MISUBA
MONARDA
MORNING GLORY
MOTHER OF THYME
MOTHERWORT
MOUNTAIN SPINACH
MUGWORT
MULBERRY
MULLIEN
MUSA
MUSTARD
MYRICA CEREFOLIA
MYRRH
MYRRHIS ODORATA
MYRTLE
NASTURTIUM
NEPETA CATARIA
NIGELLA
OENOTHERA
OLIVE
ORACHE
OREGON GRAPE
OREGANO
ORIGANUM MARJORANA
ORRIS ROOT
OSAGE ORANGE
PALMA ROSA
PANAX GINSENG
PANAX QUINQUEFOLIA
PARSLEY
PASSIONFLOWER
PASSION FRUIT
PATCHOULI
PEARLY EVERLASTING
PEGAGA
PENNYROYAL
PEPPERMINT
PERILLA
PERIWINKLE
PIGWEED
PIMPERNEL
PIMPINELLA ANISUM
PINE NUT
PLATYCODON
PLUME POPPY
POLYGALA TENUFOLIA
POLYGONATUM COMMUTATUM
POMEGRANATE
POPPY
PORTULACA OLERACEA
PRIVET
PRUNELLA GRANDIFLORA
PRUNUS SEROTINA
PULMONARIA
PURPLE PERILLA
PURSLANE
PUSSLEY
PUSSYTOES
QUAIL BUSH
QUERCUS ALBA
QUILLQUINA
RATTLESNAKE MASTER
RESEDA ODORATA
RHAMNUS FRANGULA
RHAMNUS PURSHIANA
RHEUM
ROCKCRESS
ROMAN CHAMOMILE
ROSA CANINA
ROSEMARY
RUDBECKIA
RUE
RUSSIAN TARRAGON
SAFFLOWER
SAGE
SALTBUSH
ST.JOHN'S WORT
SALIX ALBA
SALVIA APIANA
SALVIA FARINACEA
SALVIA HISPANICA
SALVIA OFFICINALIS
SALVIA SCLAREA
SAMBUCUS NIGRA
SANTOLINA
SAPONARIA OFFICNALIS
SASSAFRAS
SATUREJA ALBIDIUM
SATUREJA MONTANA
SAVORY
SCHISANDRA
SCULLCAP
SCUTELLARIA BAIKALENSIS
SEA BUCKTHORN
SEA KALE
SENEGA
SHADSCALE
SHISHO
SIBERIAN IRIS
SIDA
SLIPPERY ELM
SOAPWORT
SOLIDAGO
SOLOMONS SEAL
SOPHORA
SORREL
SPADELEAF
SPEEDWELL
SPILANTHES
STEVIA
STEVIA REBAUDIANA
STIFF VERVAIN
STINGING NETTLE
STONE PARSLEY
STRAWBERRY
SUGAR PLANT
SUMMERSWEET
SWEET ANNIE
SWEET CICELY
SWEET ROCKET
SWEET WILLIAM
SWEET WOODRUFF
TANACETUM PARTHENIUM
TANSY
TARA VINE
TARRAGON
TEA
TEUCRIUM
THUJA
THYME
TREE TOMATO
TRIFOLIUM PRATENSE
TRIGONELLA FOENUM GRAECUM
TRITICUM AESTIVUM
TURKEY RHUBARB
ULMUS FULVA
ULMUS RUBRA
UPLAND CRESS
URTICA DIOICA
UVA URSI
VALERIAN
VERBASCUM THAPSUS
VERBENA HASTATA
VERBENA RIGIDA
VERVAIN
VIBURNUM PRUNIFOLIUM
VIOLA TRICOLOR
WAHOO
WALLFLOWER
WALNUT
WATERCRESS
WESTERN PEARLY EVERLASTING
WHEAT
WHITE OAK
WHITE SAGE
WILD BLACK CHERRY
WILD GINGER
WILD PORTULACA
WILLOW HERB
WILTHANIA SOMNIFERUM
WINGED CARDAMOM
WINTERCRESS
WINTERGLUT
WINTERGREEN
WITCHAZEL
WOLFBERRY
WOOLY BETONY
WORMWOOD
WOUND WORT (Stachys)
WOUNDWORT (Anthyllis)
YARROW
YUCCA
ZHI MU
vvvvvvvvvvv
vvvvvvvvvvvvvvvvvvvvvvvvvvvvvvvvvvvvvvv





Special Price Plant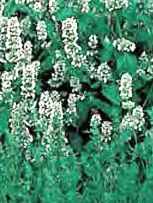 Catnip - Nepeta cataria - Perennial, reseeds freely - Medicinal; Cats adore this herb, rolling in it or chewing on it to release the volatile oils that give them a harmless high. Humans use it as a mild sedative. Plant spreads rapidly and may become a nuisance if not controlled. Drought tolerant; Full sun or partial shade; plant height: 2-3ft.
| | |
| --- | --- |
| #845 Packet $3.50 Approximately 100 seeds | |
| #Bz-845 Bulk seed 1oz (Avg. 40000 seeds/ounce) $17.95 | |
| #P845 Plant (shipped bareroot) Two gallon pot size Plant $24.90 | |
| #B1lb-845CS Dried leaves 1lb $20.00 | |



















Special Price Plant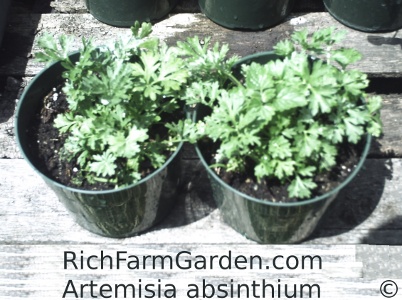 Artemisia absinthium - Perennial - Culinary, Medicinal - a bitter herb found wild on Europe, Asia, Africa and the Americas. It has been cultivated for centuries for it's stimulant properties for which it is taken internally as medicine or in foods. The gray green leaves are used to flavor beers, liqueurs and is a key ingredient of absinthe. It is used as a dewormer, and as treatment for indigestion and malaria. Historical records will reveal many recommended uses for this plant from internal use for relief of symptoms from many other ailments to external antiseptic use on skin to environmental use of repelling fleas from living areas and keeping insects out of stored clothing and furs. Lovely specimen plant. Full sun; plant height: 24-36in.
| | |
| --- | --- |
| #774 Packet $3.50 Approximately 50 seeds | |
| #P774 Plant 3.5 inch pot $5.95 | |
Known as Wormwood, Common wormwood, Grand wormwood and green ginger, Artemisia absinthium has a long history of use. It was well known in Roman and biblical times as a vermifuge and as a tonic for various complaints. Extremely bitter in taste and disliked by insects, wormwood became a metaphor to describe nearly anything acrid or unpleasant. ("...in the end she is as bitter as wormwood, as sharp as a two edged sword...")
In his work The English Phystian written in 1652, Nicholas Culpeper's description of Common Wormwood (Artemisia absinthium) is brief: "Common Wormwood I shall not describe, for every boy that can eat an eg knows it." Apparently, knowledge of egg eating has become scarce among modern Americans because I don't know a lot of people who could identify it.
Artemisia absinthium has rather lacy and deeply lobed leaves, grey-green above and silvery white underneath. Leaves are arranged spirally about semi woody stems. The plant does have blooms, very small, rather non-descript creamy yellow, appearing on capitula (downward arching heads). Native to parts of Europe, Asia, and northern Africa, it has become naturalized in many parts of the world, including North America. It is a tough customer and its fibrous root system can withstand drought well. It prefers a dry sunny spot with average or slightly poor soil, although it adapts fairly well to richer, shadier locations. Herbalists prefer plants grown in poorer soils, as the essential plant oils tend to be stronger
The plants are easily propagated by sowing seed or dividing existing plants in the spring. Seeds are extremely tiny and should be sown in flats or pots for transplanting. Prepare a flat or pot with a fine sterile planting mix. Sprinkle the seed on the surface and press lightly into the soil, then water thoroughly using a light mist (you can also water the pot or tray from the bottom making sure that the soil is completely moist, but not soggy). You may cover the flat with plastic or glass or not, just make sure that the soil stays moist, but...(that's right) not soggy. Seedlings should emerge in about 21 days, give or take a few days. If covered with plastic or glass, remove it when the seedlings emerge and continue to keep the soil most. When the seedlings reach about 2 inches in height, pluck them out carefully and transplant to larger pots or, if the weather permits, outdoors. In their final location in the outdoor garden, plants should be spaced at 20-36 inches apart each way

Culpepper accredits the great benefits of wormwood, singly and combined with other herbs to produce treatments for jaundice, diarrhea, palsey, internal parasites (though he prescribes Sea Wormwood ,Artemisia martima, for weak constitutions for this purpose, as Common wormwood is considered too strong), lost appetite, rat bites, bruising, venomous bites, bad breath, the French Pox, and the very intriguing "dull brain". He further states that wormwood is "an herb of Mars" fighting evil humors.

Modern descriptions for the uses of wormwood are a bit more cautious and much less colorful. A primary ingredient, along with anise, fennel and other ingredients, in the distilled liqueur absinthe, it's use has been banned in many countries due to the toxicity of long term ingestion of the tannins in the plant. Still, herbalists used Artemisia absinthium internally primarily as a vermicide for internal parasites and as a companion plant for carrots (it is said to repel root flies). Medicinally, it is used currently much in the same manner that Culpeper recommended - as an appetite stimulant and a liver and gallbladder tonic. Some recommend chewing the leaves to stimulate digestive secretions. Herbalists caution Ingestion for individuals with stomach, diabetes or liver problems, and that the herb should be avoided by pregnant women and children. The crushed leaves are also used in green songpyeon, a Korean rice cake eaten during the thanksgiving festival.

Other Artemisias - Go to:
ARTEMISIA ANNUA
ARTEMESIA DRANCUNCULUS
ARTEMESIA FRIGIDA
ARTEMESIA STELLERIANA
ARTEMISIA VULGARIS